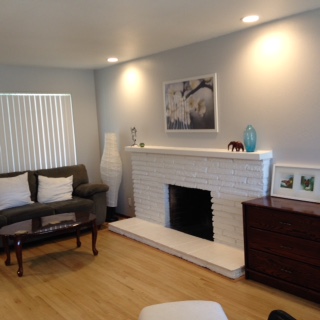 Let's just start with the before and after…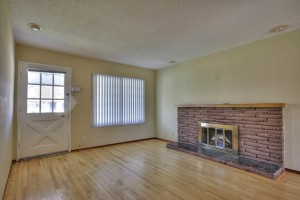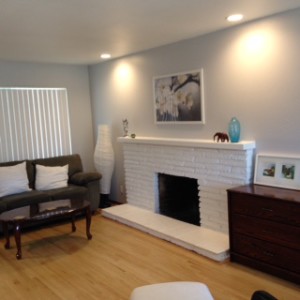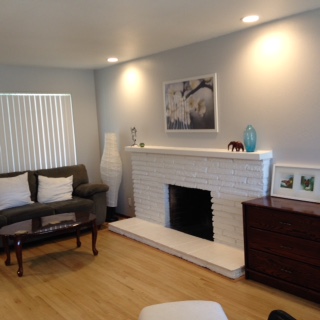 The first thing we noticed when we bought our house was that the majority of the very small living room was taken over by a large and not very sightly fireplace (this is the only living room/family room).  Removing the fireplace, at this time, would take too much effort and we have larger projects to tackle like getting the oven installed.  (I should note that in our

area it is not legal to sell a house with a working wood burning fireplace  and we have had numerous earthquakes in this area, so there is no reason without a good inspection to believe that this fireplace is operational for burning anything and it contained an electric insert with a long extension cord.)  We do not plan to burn anything in this fireplace, so anything goes. I went straight at this fireplace and mis-matched mantle with a paint and primer in one. I used an eggshell finish to give it a light shine.  It took a ton of paint to get into all of the porous brick using a big thick paint brush.
The paint made a huge difference.  We also removed the old brass screen and the insert.
This made a drastic change to the room and the fireplace now simply blends into the decor. In the future, there is a big black hole in the fireplace where the screen was. It is sooty and I have tried vacuuming it and scrubbing it. The dog keeps going in there and then tracking sooty paw prints all over the house. I am thinking about glass pebbles or candles, any ideas?  (hopefully that will become a future post)
-Theresa.  Join me on Facebook!!!!