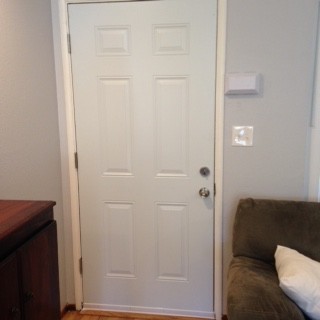 Crazy house! We move into a house and realize the door is old and has a lot of glass which is not safe.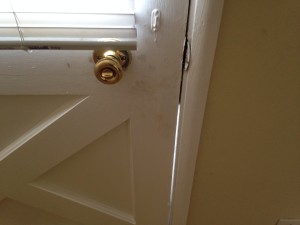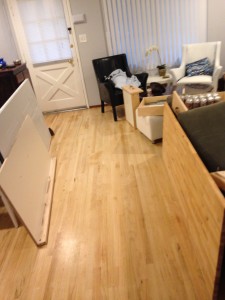 So we have two options, keep the door and buy a security screen (which the realtor had removed) or buy a new door. Our first thought was to try and change the doorknob and deadbolt. This ended up being quite an interesting day. I bought the new standard doorknob and deadbolt, then realized the old doorknob is set about 5″ in from the side of the door.
The doorknob I have purchased and every other doorknob at the hardware store, come to find out, only go in about 2″ from the side of the door. Before I realized the doorknob was the wrong size, I got it stuck and us locked inside for about 30 mintues (I think it took a hanger, a crowbar and some pliers to get the door open again and the "new" doorknob removed).
So option 2 – buy a new door. I had heard this was really hard but it turned out to not be so bad and trust me, we are not super handy (please refer to the 30 minutes locked in our own house, two sentences prior).
I bought three new hinges and a metal door. It took us awhile to install the new door but we met a lot of neighbors. It is amazing what a missing front door will do for making friends. We added a little bit of weather stripping around the edges and a rubber weather strip on the bottom. The new door is great! The locks fit so much better than old ones and no more unsafe glass.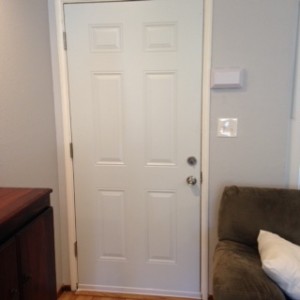 -Theresa.  Join me on Facebook!!!!