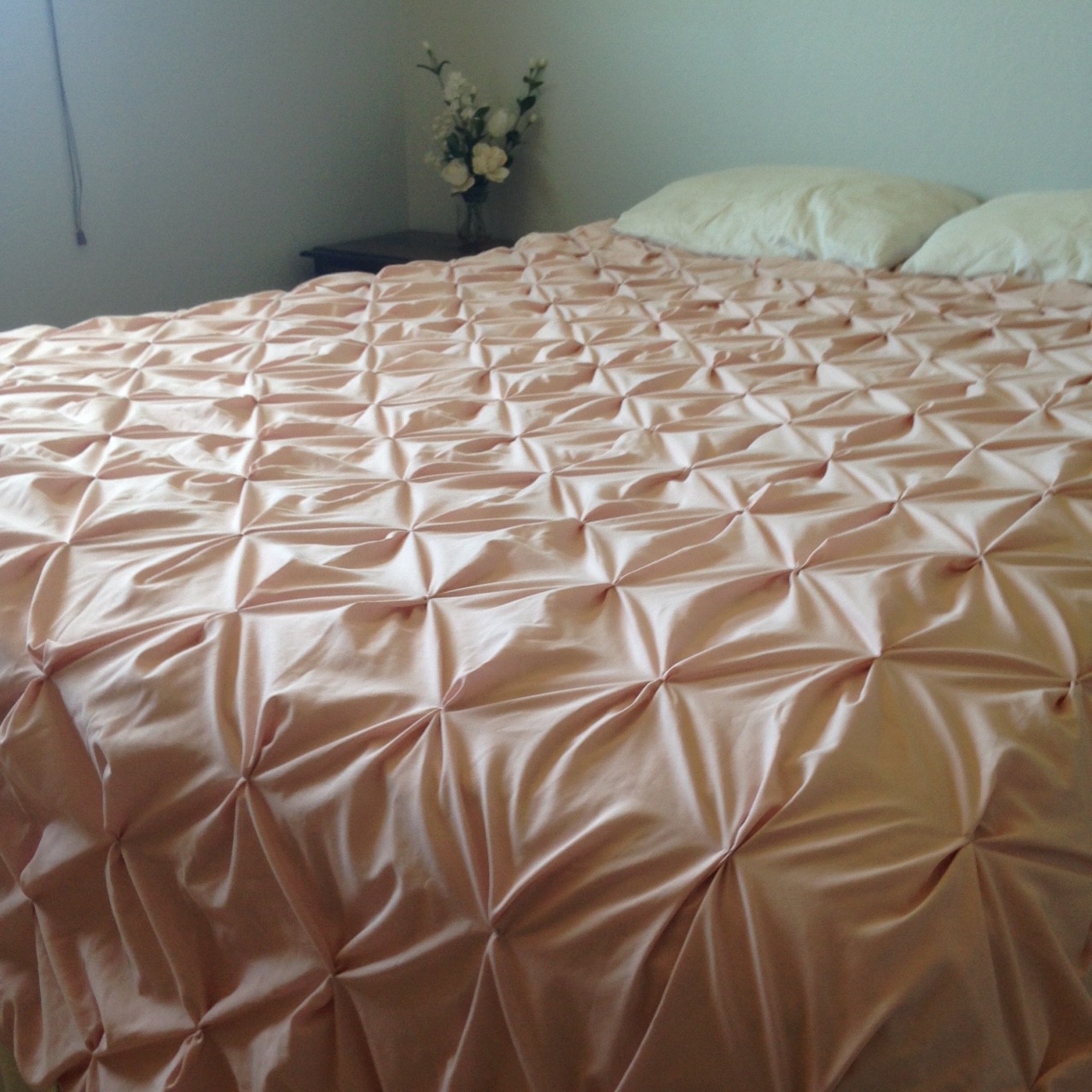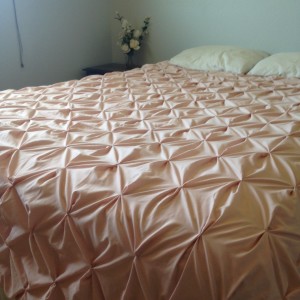 Pintuck Queen-sized Bedspread
Dusty rose!  Yup, I wanted a custom color pintuck bedspread (and do not have a large budget).  I love the way they look so fluffy and add texture to the room. This was one of the easiest projects I have done. My walls are grey and I was not finding a large selection of colors for pintuck bedspreads.  But this ended up being a super easy and super cheap project!!!  So much easier than quilting.
For a Queen-sized bed use a King-sized flat sheet.  You will need two sheets a King-sized for the top and a Queen or King for the underside.  Try an outlet store, online, or the thrift shop; I spent under $10 at the thrift shop (and then detergent and anti-microbe agent).

Time to measure and mark. I put the King sized sheet face down and  wrote the marks using a mechanical pencil.  I did some playing around until I got the size pintuck I wanted, extra fluffy (I ended up doing about 200 pintucks).  In the diagram, you see each pencil mark is 2″ across.  There are 10″ between each center-point of the mark in the horizontal direction.  And vertically the rows are 4″ apart.  Keeping the fabric straight was probably the most difficult part of this project and it really was not that hard.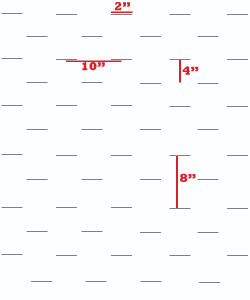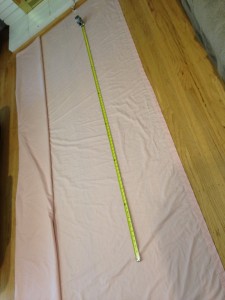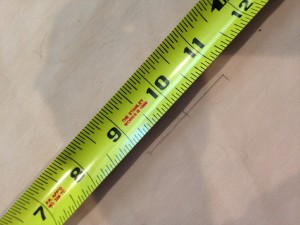 I saw a couple tutorials on how to use a machine to twist and sew the pintucks but I did not like the end product.  I decided to just hand-stitch the pintucks, which probably did not take too much more time (besides Netflix and hand-stitching is relaxing).  For the stitch, put the needle in one end of the mark and then the far end 2″ away, tie on the underside, tie a good strong knot or two.  Use some decently heavy thread (polyester is less likely to break).  Below is a photo of a single pintuck being knotted on the backside of the fabric. And a photo of what it looked like after a few pintucks were done.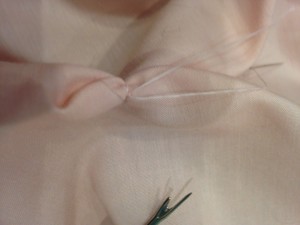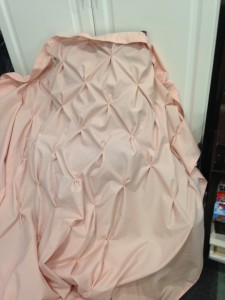 Finally, it was all done and it looks beautiful!!!!  I attached a queen sized sheet to the back and sewed most of it closed.  I decided not to stuff it or put a duvet in it, but this is very possible (warm climate).  My room has light grey walls and the dusty rose color is a perfect accent color; I am so happy I did this myself and it cost me about $10 (thrift store).  Next to decide on a bedskirt and pillow shams, ideas???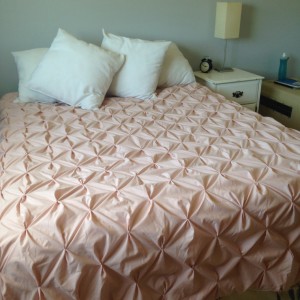 Materials: (for a Queen sized bedspread)
measuring tape
needle and thread
King sized sheet
Queen sized sheet
-Theresa.  Join me on Facebook!!!!