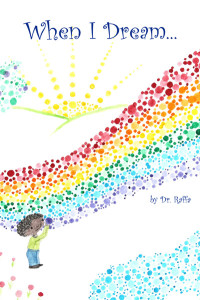 "When I Dream…" is a whimsical book about dreaming, the freedom to imagine, and to creatively explore the world.  Ride waves, touch rainbows and fly around the world, as each colorful and bright watercolor image enhances your inspiration, drawing you to wonder how dreaming influences your life.
Can you touch rainbows and fly with friends?
When inspiration strikes, follow it with all your energy. Dr. Raffa first followed her inspiration through her PhD level research papers, and then followed her heart in writing children's books.
About the Author:
Dr. Theresa Raffa is a published scientific author who loves to dream, write, and draw. She loves to note that innovation and creative thinking are key aspects in her scientific accomplishments. She wishes to impart that freedom from in the box thinking to encourage people of all ages to enhance their potential.
Get Hardcover Now

Available Qty: 40
---
Other Editions on Amazon