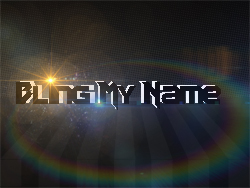 Every name has a song!  Hear what your rap sounds like at Bling My Name.
Lawrence Martinez (rap artist) has the honor of rapping a 1 Minute of Bling for each name. No joke, the name you choose (which may be yours or someone you know) will be done with STYLE, have a HIGH CALIBER and will be full of real, relevant lyrics for the name of your choice.
Who is this Lawrence Martinez?? In his own words:
I'm a born lyricist and have been in bands that have made a difference. I've been able to grace the same stages, in the same show, as Sublime, 311, Korn, Deftones, Papa Roach, Incubus….I could go on. What truly matters, however, is you being at peace with knowing the 1 Minute of Bling you're getting is coming from a legit source and guaranteed FRESH.